Eternal Tango Orchestra (Click Here for Digital Press Kit)
Praised as "superb in their powerful and dynamic rendition" for their outstanding performance in Stowe TangoFest in Vermont, the Eternal Tango Orchestra has been reviving and recreating the great tradition of the orquesta tipica since June of 2003. The New York–based orchestra features ten of the world's leading tango musicians forming the first tango ensemble of its orchestra–size in North America and one of very few currently active in the world.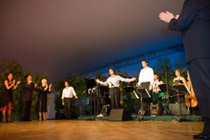 The Eternal Tango Orchestra performs regularly at the Lincoln Center Summer Festival in New York, Stowe TangoFest in Vermont and every summer at Hudson River Park Trust Moon Dance Series in New York City.
Recently, the orchestra was featured in critically–acclaimed show, "Tango, Historias Breves" at NYU's Skirball Center for Performing Arts in New York with Guillermina Quiroga, the producer and dancer of the show.
History of Tango Orchestra – Orquestra Tipica
There was a time when large tango orchestras could be found in every venue of Buenos Aires. The powerful, unmistakable sound of the orquesta tipica was the force that propelled tango through its golden age and provided its iconic sound.
Unfortunately, as social, political, and economic forces fragmented and transformed the tango culture of Argentina, the grand orchestras of the '40s and '50s gradually gave way to quartets, trios, and duos-when not replaced by recorded music altogether.
But even during periods of decline the music, dance, and culture were sustained and cultivated in Argentina and in communities all over the world, by dedicated "tangueros" who share a passion for this great tradition. Thanks to their efforts, In recent decades tango has awakened from dormancy and slowly regained the vitality and innovation of its earlier days. Today we can say that tango is alive, but is still missing the great voice to proclaim "Soy el Tango"-the voice of the tango orchestra.