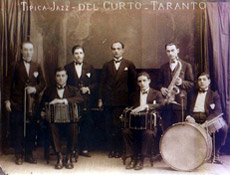 Tango has been in the Del Curto family since the early 1900´s. The photo on the right is Orchestra Tipica Jazz Del Curto–Taranto br>. The bandoneon player on the left in the photo is my great–grandfather Luis Del Curto. He was also a composer. His son, Hector Del Curto (my grandfather), also a great bandoneon player, introduced me to the world of tango and to the bandoneon.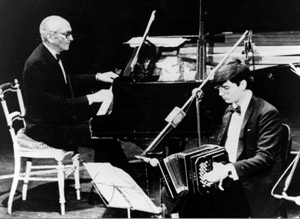 At the age of 17, I had the privilege of joining one of the most prestigious orchestras of the world — Osvaldo Pugliese´s Orchestra. This orchestra played a major role in the history of Tango. br> Having the opportunity to share the stage as one of the four bandoneonists with Osvaldo Pugliese, referred to as the "Last Giant of Tango," was one of the most extraordinary and invaluable experiences of my life.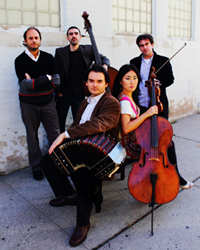 Throughout the years, I have played with many groups such as Pablo Ziegler, Nestor Marconi, Forever Tango, Fernando Otero´s X–Tango. br> In 2003, I have decided to take the responsibility and pleasure of starting the Eternal Tango. I feel fortunate for having the opportunity to share these projects with great friends and musicians such as Gustavo Casenave, Pedro Giraudo, Nick Danielson and all the members of Eternal Tango Orchestra.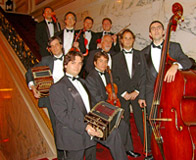 Eternal Tango Orchestra is an homage to the great composer, pianist, and director Osvaldo Pugliese, who has deeply influenced my style.
The orchestra is also dedicated to my parents, grandparents, great–grandparents, my sisters, and my friends for their support.