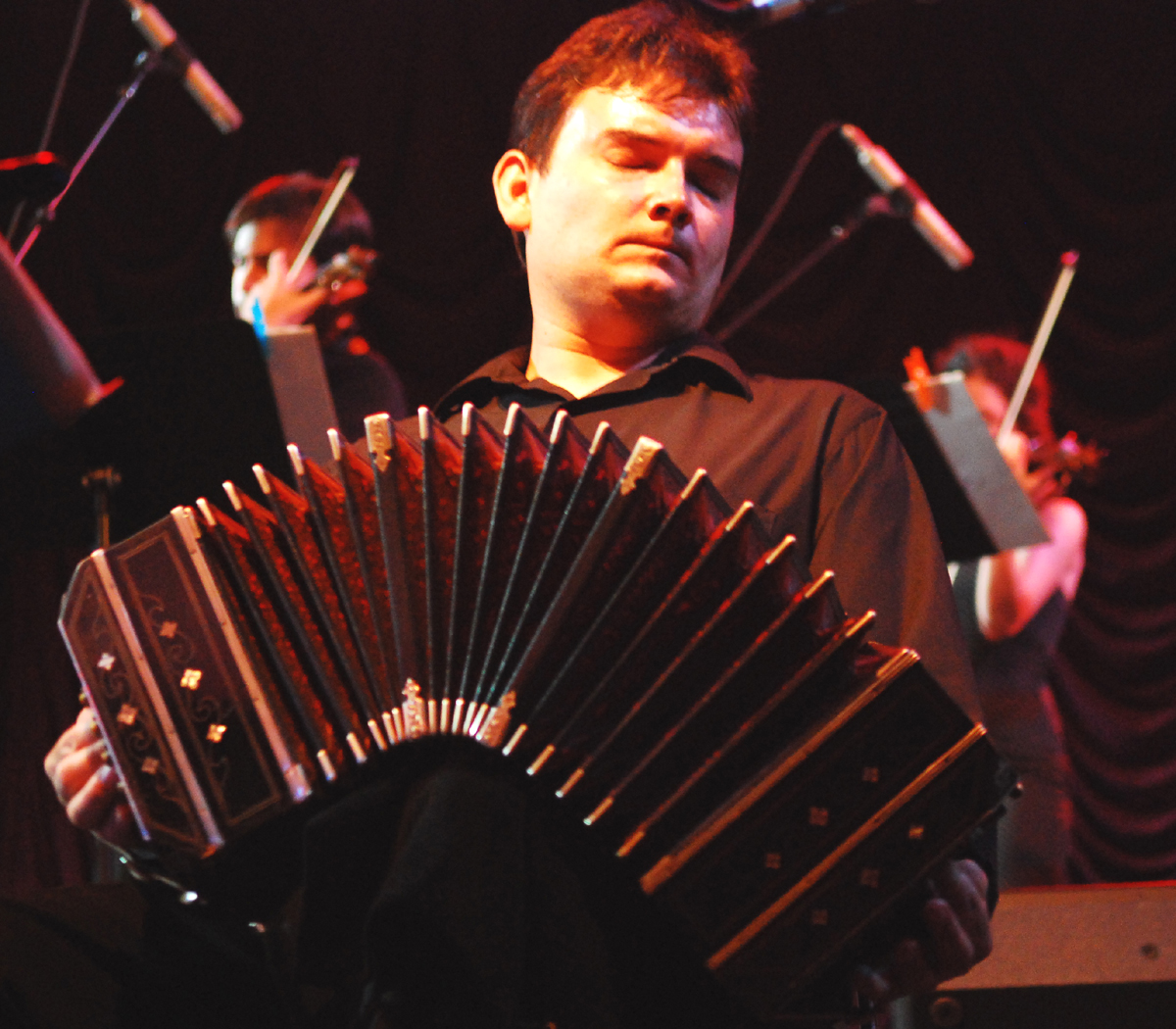 (Click Here for Digital Press Kit)

Praised by The New York Times as a "splendid player," Argentinean bandoneonist Héctor Del Curto's career, spanning for more than twenty–five years has encompassed the traditional Tango, New Tango, Jazz, Classical and World music. He has performed with the world–renowned tango legend Astor Piazzolla, pianist Pablo Ziegler, clarinetist Paquito D'Rivera, saxophonist Joe Lovano, violinist Cho–Liang Lin and appeared with prestigious orchestras such as Metropolitan Opera Orchestra, National Symphony Orchestra, Orpheus Chamber Orchestra, Rochester Philharmonic Orchestra, Mobile Symphony and Buenos Aires Symphony Orchestra.

Born into a family of bandoneon players, Mr. Del Curto was introduced to the world of Tango and bandoneon by his grandfather, Héctor Cristobal. By the age of 17, he had won the title "Best Bandoneon Player Under 25" in Argentina, and was invited to join the orchestra of the legendary Osvaldo Pugliese, the "Last Giant of Tango."

In 1999, Mr. Del Curto received the Golden Note Award from the Italian–American Network in recognition of his artistic achievements. As conductor, he directed the spectacular show Forever Tango on Broadway and founded the Eternal Tango Orchestra, a ten piece ensemble.

He recently produced and released his second album Eternal Piazzolla with a sold out concert at Le Poisson Rouge in New York City. His first CD Eternal Tango was featured on BBC News and Public Radio International's The World.

Mr. Del Curto is the founding Artistic Director of Stowe Tango Music Festival, the premier tango music festival in the United States. Every August, the festival brings together world-class artists and talented students to present a unique series of performances throughout the Stowe, Vermont region.

He appears in numerous recordings with artists such as Osvaldo Pugliese and Astor Piazzolla on Finally Together (Lucho), Pablo Ziegler on the albums Asphalto, Quintet for the New Tango (BMG), and Tango & All That Jazz, Paquito D'Rivera on Funk Tango, Jazz Clazz and Panamericana Suite Tito Puente and Eddie Palmieri on Masterpiece, Plácido Domingo's Encanto del Mar (Sony Classical), Erwin Schrott on Rojotango (Sony Classical), Denyce Graves' The Lost Days (BMG), Absolute Ensemble on Bach Reinvented (Sony Classical), Fernando Otero on Plan, Vital and Pagina de Buenos Aires, Ricardo Arjona's Quién Dijo Ayer and Santo Pecado (Sony International), and Shakira's Laundry Service.