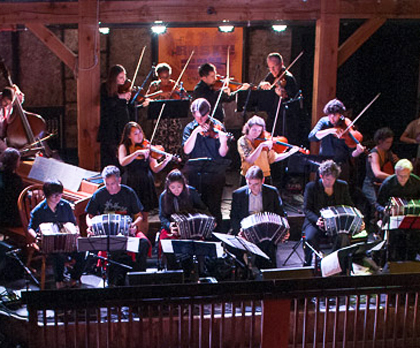 TANGO ORCHESTRA
Tango has been in the Del Curto family since the early 1900´s. Hector Del Curto's great–grandfather, Luis Del Curto was a bandoneon player and composer who had his own orchestra called Orchestra Tipica Jazz Del Curto–Taranto.

Hector Del Curto's career began with the legendary orchestra of Osvaldo Pugliese in 1988. After moving to New York, he was propelled to establish an orquesta tipica, hence the Eternal Tango Orchestra was born. Since the Lincoln Center début in 2003, the Eternal Tango Orchestra (now the Hector Del Curto Tango Orchestra) returned to Lincoln Center for three more engagements and performed at other various venues including the Skirball Center for Performing Arts.
Stowe Tango Music Festival Orchestra
Hector Del Curto founded the Stowe Tango Music Festival, the premier tango music festival in the United States, noted both for its unique series of performances and its high level of musical training. As the festival's Artistic Director, he directs the Stowe Tango Music Festival Orchestra, a 20 plus piece tango orchestra comprised of an extraordinary group of selected students from all over the globe, the finalists of Che Bandoneon International Competition and world-class artists including guest tango legends from Argentina.
History of Tango Orchestra – Orquestra Tipica
There was a time when large tango orchestras could be found in every venue of Buenos Aires. The powerful, unmistakable sound of the orquesta tipica was the force that propelled tango through its golden age and provided its iconic sound.
Unfortunately, as social, political, and economic forces fragmented and transformed the tango culture of Argentina, the grand orchestras of the '40s and '50s gradually gave way to quartets, trios, and duos-when not replaced by recorded music altogether.
But even during periods of decline the music, dance, and culture were sustained and cultivated in Argentina and in communities all over the world, by dedicated "tangueros" who share a passion for this great tradition. Thanks to their efforts, In recent decades tango has awakened from dormancy and slowly regained the vitality and innovation of its earlier days. Today we can say that tango is alive, but is still missing the great voice to proclaim "Soy el Tango"-the voice of the tango orchestra.

Read more about the history of Tango at todotango.com